Sadly, another one of our cats has passed away. "Yosemite Sam" came to us when he was almost 6 years old. He was a birthday gift for my son, Bryan, who was turning 10 and wanted his own cat. We always called him Sam or Sammy, and we first found out about him through an email from a local woman who rescues animals. We got our first cat,
Taz
from her and she was looking for someone to give Sam a home.
Sam spent a lot of time with Bryan, even climbing up the ladder to his bunk bed and sleeping in the window that was just a step up from the mattress. Unfortunately, just over 3 years ago, Sam developed diabetes, and that disease gradually wore him out. Sam was 15 when he was laid to rest today beside his buddy, Taz, on our property.
Rest in Peace
~ Sam ~
May 12, 1995 - July 19, 2010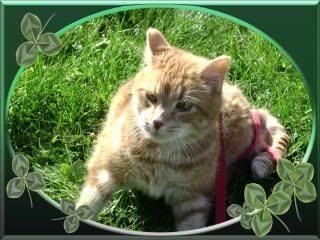 with Bryan in his healthier days:
with Bryan today:
Forever remembered and loved by
and family