I'm trying to find time to make some barnwood frames, but since one of my favorite blogs, Funky Junk Interiors is putting a call out for frames I am blogging about two older ones I've made.
For the first one, I had bought 4 Currier and Ives tiles on ebay that match the blue and white china I love. I decided to frame the tiles with the same wood (knotty pine) that I used for my kitchen cupboard doors and drawers. It hangs on the wall in the kitchen.
The frame is about 1 1/2" wide and 3/4" thick and the inner edge is routered the same as the kitchen doors.

The corners are mitred and then they are put in a (homemade) spline jig on the tablesaw to cut the slots that hold glued in 1/8" thick hardwood splines. The frame sits upright in the jig so that the saw cuts a blade's width out of the corner.

Here's one online that's similar to mine from Sawdust Making 101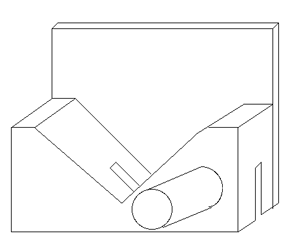 This is how the corners look when finished:

I used hardboard on the back to set the tiles on and a sawtooth hanger for hanging.





The frame is sized to leave enough around all the edges for grout, it turned out to be about 21" x 7 1/2".

The second set of framed tiles are made into a square trivet. These tiles match my kitchen backsplash. This is used on my table, but I really need a bigger one because it doesn't hold too much even though it is 12" x 12" square.



The 1 5/8" wide mitred frame slants down from the tiles to the outer edge so that the hot dishes sit just on the tiles.



A piece of hardboard sits recessed from the bottom, and the tiles are glued and grouted onto that. Small rubber feet keep the whole thing elevated off the table a bit.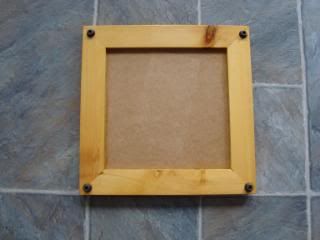 Linking to parties at the following blogs:

Funky Junk Interiors
Blue Cricket Design
The Shabby Chic Cottage
Under the Table and Dreaming
Cottage Instincts





Everything I make is for sale, so if you see something you like, please contact me. I enjoy doing custom orders, so if you have some tiles you need framing, let me know!



Labels: home accessories, tiles