The frames are made from boards that are first ripped in half lengthwise and then a groove is cut down the full length to receive the thickness of the plywood.
These will be the top and bottom rails.
The side stiles are made with a tenon cut to fit into the groove of the rails.
This photo is taken with the pieces standing up to show the grooves and tenons:
When the sign is glued together, the pieces lay flat:
Here's a longer sign than the one above to show how I transfer the lettering to the sign.
I find a font that I like on my computer and blow it up to the appropriate size for the board I'm using.
The letters are printed out and then taped together if necessary.
Underneath I put a sheet of carbon transfer paper as you see here:
Sometimes the paper needs to be taped to the sign so that it doesn't move.
Then I trace around the edges with a pencil: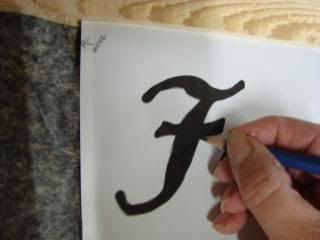 Here you can see the beginning of the letter "F":




And here are all of the letters transferred to the board:




Then you paint between the lines using a brush size that will fit the letter size:



Here is the painted sign on plain boards without any finish on them:


Here is the same sign with an amber shellac over it:


That Fresh Eggs sign is 23 1/2" long x 9"wide x 7/8" thick.

This ANTIQUES sign is 30 1/2" long x 9" x 7/8":




Here are a few more styles:






It has a really nice old look to it, that the photo doesn't completely capture:

I also do personalized signs. This one I made for my friend with the last name Taylor, who was married in 1980:

And here is one I made for myself:

Linking to parties at the following great blogs:

Everything I make is for sale, so if you see something you like, please contact me.





Labels: signs