This is one of my favorite signs I've ever made: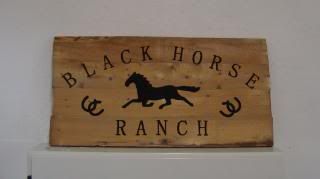 Black Horse Ranch $50
It's 14" x 28" and the side edges are purposely not cut straight. I search the internet for interesting shapes, this horse outline is called a silhouette.
This is pallet wood, holes and all still there. I used my vinegar-and-steel-wool mixture left overnight in a jar and then with water added and brushed on like a stain.
I handpainted the letters, curving the top ones just a bit and then the horse. It just needed a little something else so I added the horseshoes.
I just made up the Black Horse Ranch and while writing this thought I should "google" it. And there is one... in Wyoming... I LOVE Wyoming! So that is cool, but I just chose letters that would look nice with the black horse silhouette.
Linking to
Cottage Instincts
Blue Cricket
Savvy Southern Style
Everything I make is for sale, so if you see something you like, please contact me.