I visit two different types of websites- home decor/craft/DIY type blogs and woodworkers forums. Since

most

of my followers are bloggers whom I don't think visit woodworking sites, I've decided to occasionally feature some special pieces that woodworkers have made. Hopefully this will show my followers and readers what woodworkers are doing and creating.





The first fabulous creation I want to feature is a carving called "Thunderbolt" and made by Mike Pounders of Arkansas.

At Mike's blog he says "This piece is approximately 20"tall and 12" wide, and is made from basswood, pine, and birch plywood. It is finished with acrylic paint, gold leaf, satin polyurethane, and has some leather and metal accents"

Here is the finished product, but I'll show some of Mike's steps along the way and the rest you can read about at his blog, Mike Pounders Wood Carving here: Carving Thunderbolt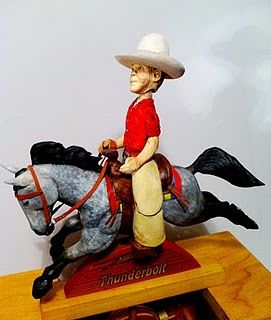 This is a moving, or automated carving, the cowboy actually rides on the horse using wooden gears and a crank that you turn to watch the horse try and buck the cowboy!
Here are the pieces Mike carved for the cowboy:
and here is the start of the horse:
He then finished the saddle details and put the cowboy on to see how he fit in the saddle!
Mike made the horse's head from a separate piece of wood
:
and he added a tail:
Of course the cowboy needed a big hat and here he is wearing it and sitting on the horse. This shows the mechanical gears Mike made as well:
Mike first paints the carving in gesso to make it white and then does some wood burning and paints with acrylics. I think this is just fabulous work:
There is also a
video link here
on youtube
of the beautiful piece in action (unfortunately I have not been able to view it because I'm on dialup and it just won't load, so I hope it works for you all)
Please go and read
Mike's blog
where he describes more of the process.
A Special thank you to Mike Pounders for allowing me to share his wonderful creation with my readers!
Labels: Feature