You can see part 1 of my Workshop here



My husband and I did almost all the work in building the new shop but we did hire a group of men to pour and smooth the new floor.

Here's the pump truck starting the pour in the north east corner:



Here's a close up of the cement going in over the infloor tubing and mesh:
It was July 2008 and since our foundation was all in, we were on to the blocks and then the framing. Our plans called for one row of blocks sitting on the foundation.
Blocks were not put at the doorways at the front and side of the building and also where the large garage door would be.
2" thick styrofoam had to be placed vertically around the whole perimeter of the building. We have cold winters and this is to hopefully keep the heat in from the in-floor heating system. There is a middle dividing wall with an inner door between the garage (his) and workshop (mine) which will allow wood, tools and finished furniture to be transported through the large garage door and into the workshop.
Here you can see the side of the garage with the styrofoam in place and the opening for the side door: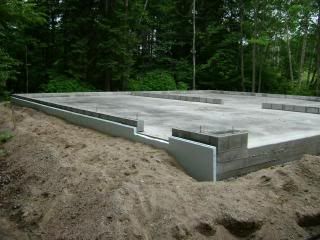 Finally time to frame the walls! We used 2×6 lumber and 8' foot lengths for the studs that are 16" OC. These are placed on a 2×6 plate and with two 2×6's for the top plate. Of course this sits on top of the blocks and so it makes the wall height about 9'. We put the walls up in sections and used the top 2×6 to run across sections to hold them together. We did have anchor bolts that came up from the foundation, through the holes in the blocks and then up through the plate.
This photo shows the walls going up starting with the east wall which is for my workshop. There will be a door at the front and three windows along the side, so framing was done to leave the space for these:
My workshop will have an assembly room in the front that is about 10' deep x 20' wide (the width of the workshop), to divide my section up into two rooms. That dividing wall will be added later, but here is the view from my front door:
The framing was finished by the end of July 2008, including the opening for a 16' garage door:
Unfortunately, at this point, I had to have carpal tunnel surgery and was not much help to my husband for the next few months of construction, other than supervising :) It's amazing to think all the work he did on this big project while still having a full-time job. Now if we (he) can just finish before the snow flies!
Stay tuned for more! See WORKSHOP PART 3 here
Labels: workshop