We are redoing the guest bedroom and you can see how we changed the floors here in my last post.

As I wrote in that post, everything in the room was beige. We did some minor patching, but you can see below how the closet wall looked with the trim, baseboards, door and wall all the same colour.








The window wall looked much the same:



The trim and mouldings really are old and beautiful to my eye, but they just blended in with the walls.




As I said in that last post, we primed everything at the same time to give our new paint something to stick to since we had no idea what was used previously.

The priming left us with a white-wash look everywhere.


We even primed the baseboard heaters. The only thing we left was the ceiling.


All the trim was painted in a white called "Milk Moustache" by Beauti-Tone, made in Canada by Home Hardware. I painted all the baseboards, closet door, door frames, window frame and baseboard heaters.
The walls were done in a colour picked by my husband. It was not something I would have chosen, but it looks nice. It's also by Beauti-Tone and called "Crocus Tint."
Paint can do wonders to freshen up a room!
In my
next post
I'll show you the finished room... to be continued.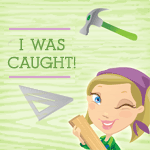 Sharing at:
Ivy and Elephants
The Handmade Hangout
Shabbilicious Friday
Feathered Nest Friday
The Dedicated House
Labels: guest bedroom, home renovations, new house