I hope you joined me over at Funky Junk Interiors for the tote build but now...
Back to our regular scheduled programming...
continuing the Shutter Cupboard
**Here's a link to the first post in the series ~ part 1
The four legs need to have grooves cut into them to fit the side and back panels.
I'm using a 3/8" diameter router bit to make the groove. Since the legs continue down past the bottom edge of the panel, the groove has to stop before the end of the leg. It works out to a groove of 24 1/2" long.
You can see in this photo the groove for the left side panel.
For the back two legs there will be two grooves, one for the side and one for the back:
The panels then have a little taken from each edge to make the correct width tenon to fit into the leg grooves: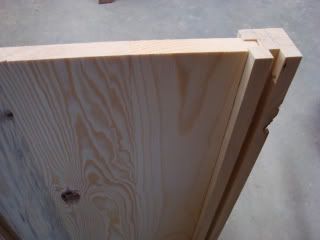 The three panels fit into the grooves and will be glued there after I've made the shelf and the bottom piece.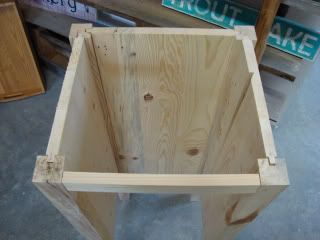 Here's what we have so far, next I need to work on the shelf and bottom piece: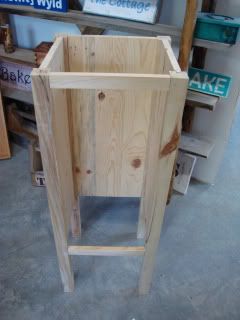 As you can see, this is like putting a puzzle together, it's very creative and mathematically challenging, two things I enjoy!
Continue on to part 6 here

Labels: cupboards, pallet wood, reuse